Dear Friends,
Recent events have had a profound effect on our society and upon our worshipping community. As you consider the things that have been in the news recently you might be forgiven for thinking that the end of the world is already upon us. You might remember the passage in Luke 21 where Jesus spoke to the disciples at length of the end times saying, "Nation will rise against nation, and kingdom against kingdom.
There will be great earthquakes, famines and pestilences in various places, and fearful events and great signs from heaven." Please let me counsel you that this is not that. Jesus prefaced that passage by saying "Do not be deceived" and we would do well to focus on that advice. This is a nasty bug that needs to surrender to the mighty name of Jesus and that is all. Please feel free to shout – Amen!
One of the effects of this health crisis has been that we have had to suspend all public acts of worship following a statement by the Archbishop of Canterbury. You can't, however, keep a good Church down so we have invested our energies into finding new ways of being Church. If you have access to our website you'll find resources there to help you in worship times, Bible notes you can use for daily study, Bible readings and sermons to listen to for weekly worship as well. Over the coming weeks we will be developing even more to add to these resources. We appreciate that not everybody has access to the internet so we are also offering many of those resources in paper form too. If you would like to receive any of them please let the office know and we'll endeavour to get them to you as quickly as possible. Keep an eye on our Facebook and Instagram pages too for updates and information.
Our Kidz Klub and Youth teams have also been busy creating new resources for the younger members of our fellowship (and others) that will be available on YouTube, through their respective websites and on our social media pages too. We'd encourage everyone to make the most of this new opportunity to build the Kingdom of God by sharing the resources with family and friends. "See God is doing a new thing do you not perceive it?" (Isaiah 43:19)
We are also building a network of helpers to provide support for people who have been forced into isolation. All of our home group and missional community leaders have access to an email address that has been set up to provide a point of contact to arrange help with shopping, the collection of prescriptions or telephone contact for prayers or just a friendly chat. If you need help or know someone who is struggling please get in touch and we'll do our utmost to help. The information is also on the back page of this newsletter.
I'd like to finish with three thoughts about the positive impacts of all this. Firstly, as Christians we have hope. Romans 8:24-25 says, "For in this hope we were saved. But hope that is seen is no hope at all. Who hopes for what they already have? But if we hope for what we do not yet have, we wait for it patiently." I want to encourage everyone to hold on to the hope we all have in the God who saves and heals – Jesus is the name above all other names including Covid19!
Secondly, I have been an avid watcher of the news recently, as I'm sure most of us have been, and I've seen a couple of reports that have shown that whilst some countries have been 'locked down' pollution levels have dropped massively. I, therefore, find myself praying that God will heal our lands through this time of crisis.
CONTINUED BELOW...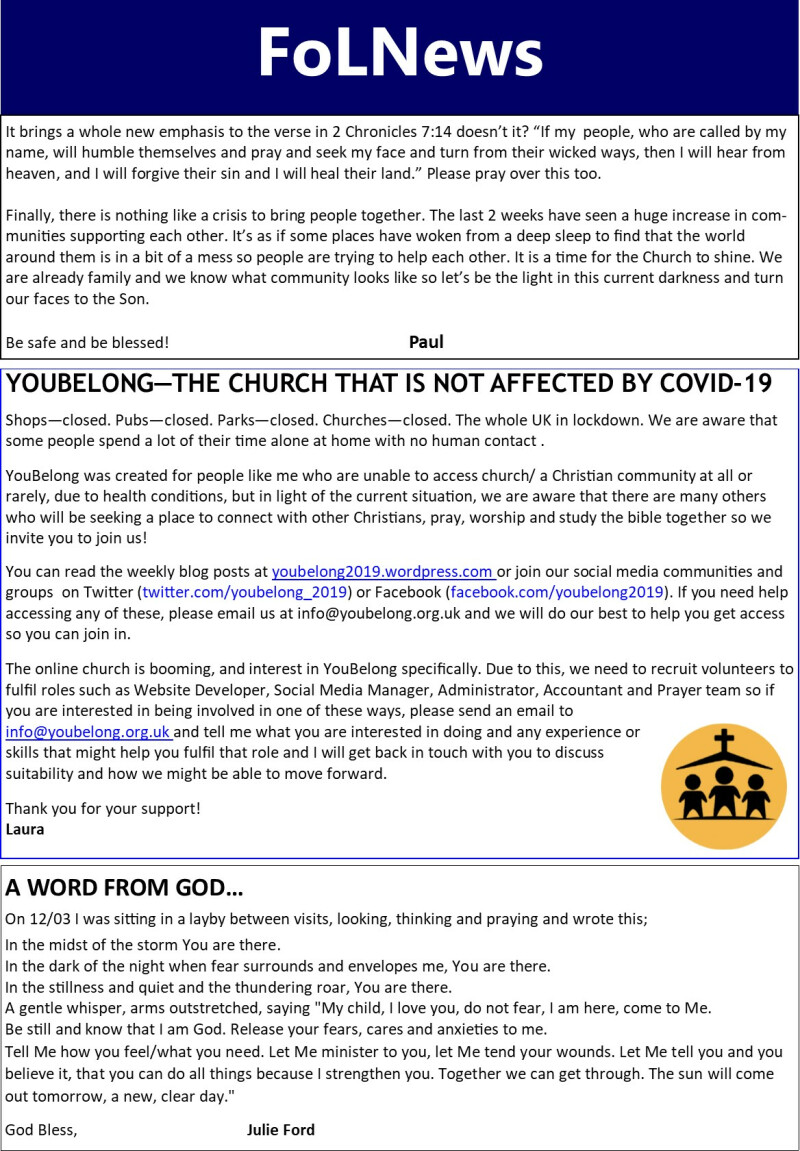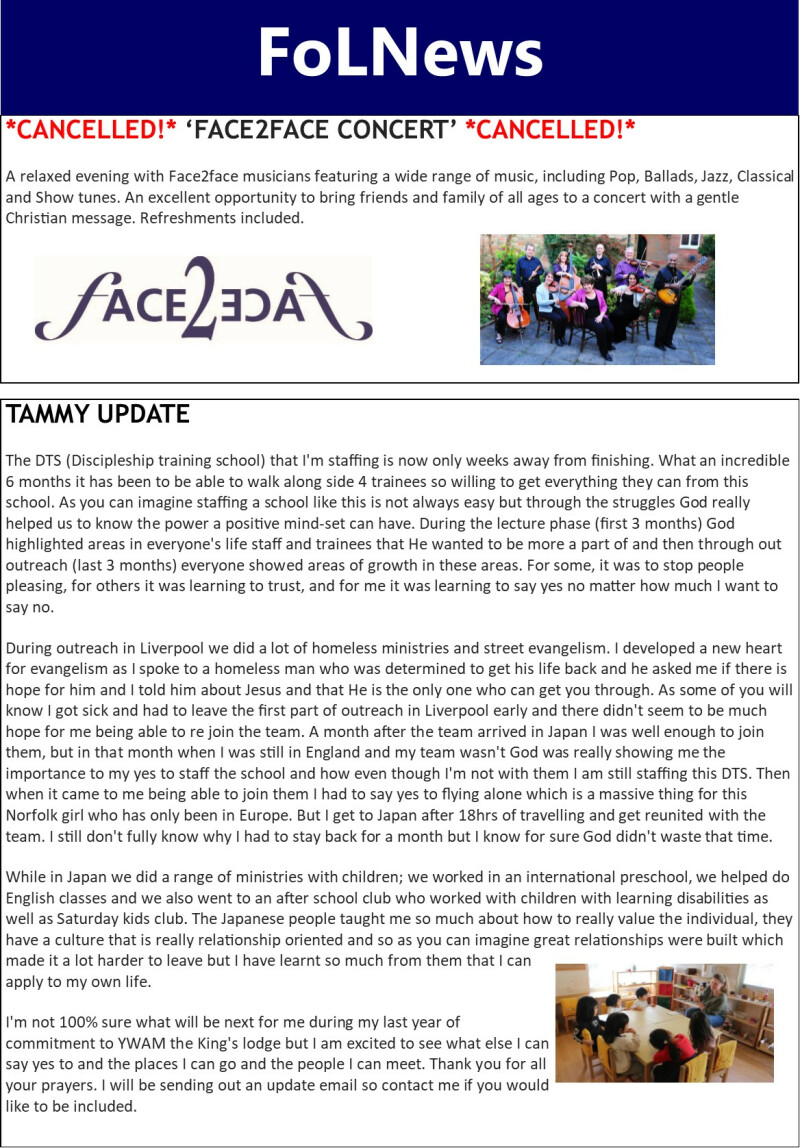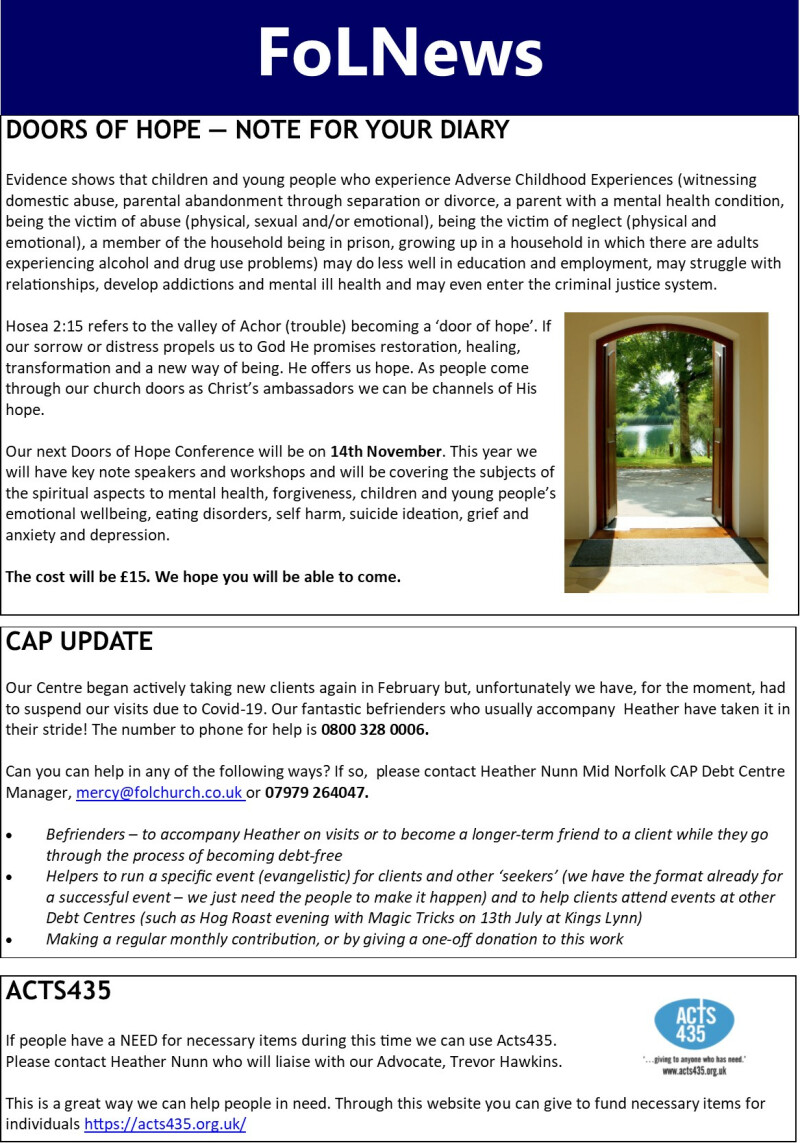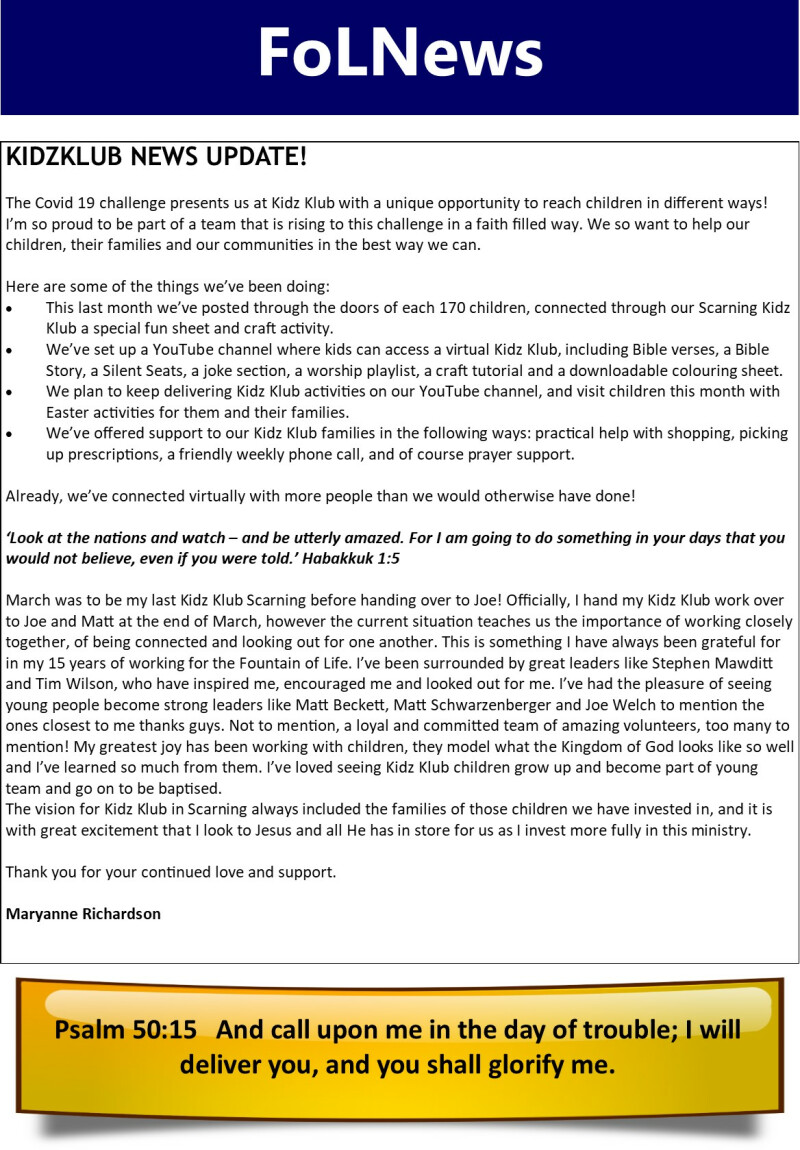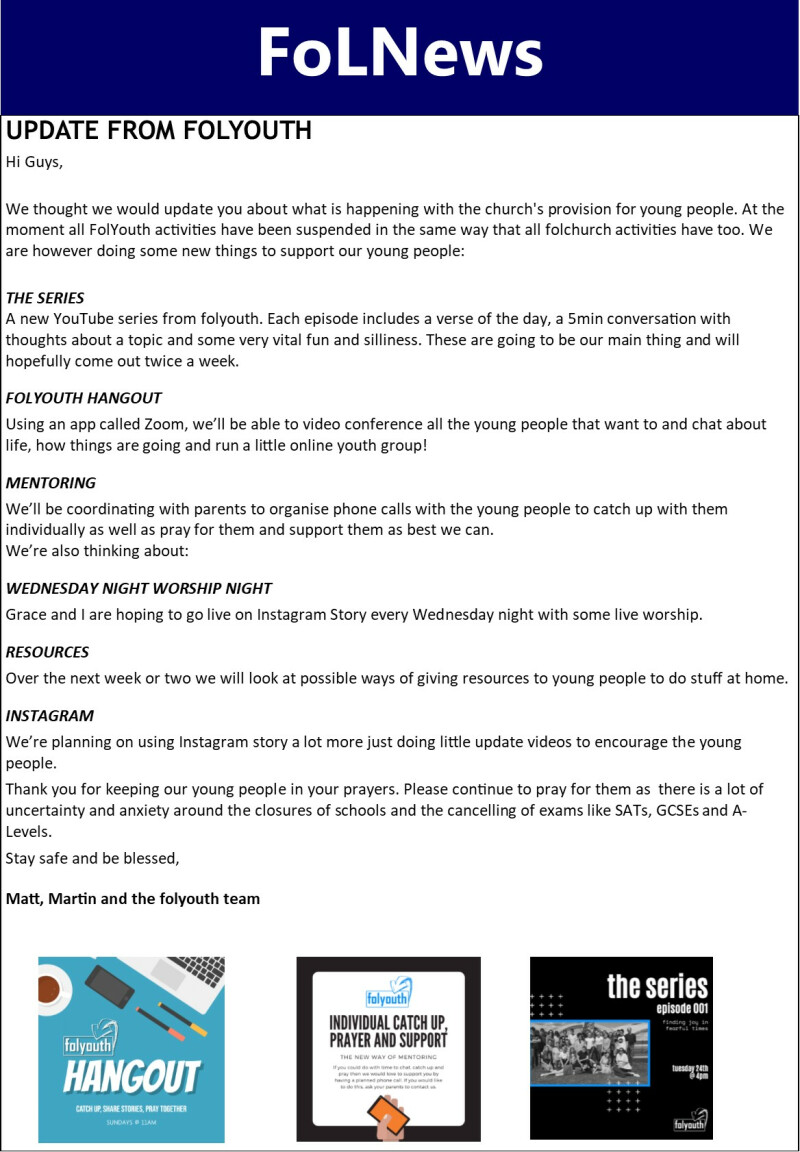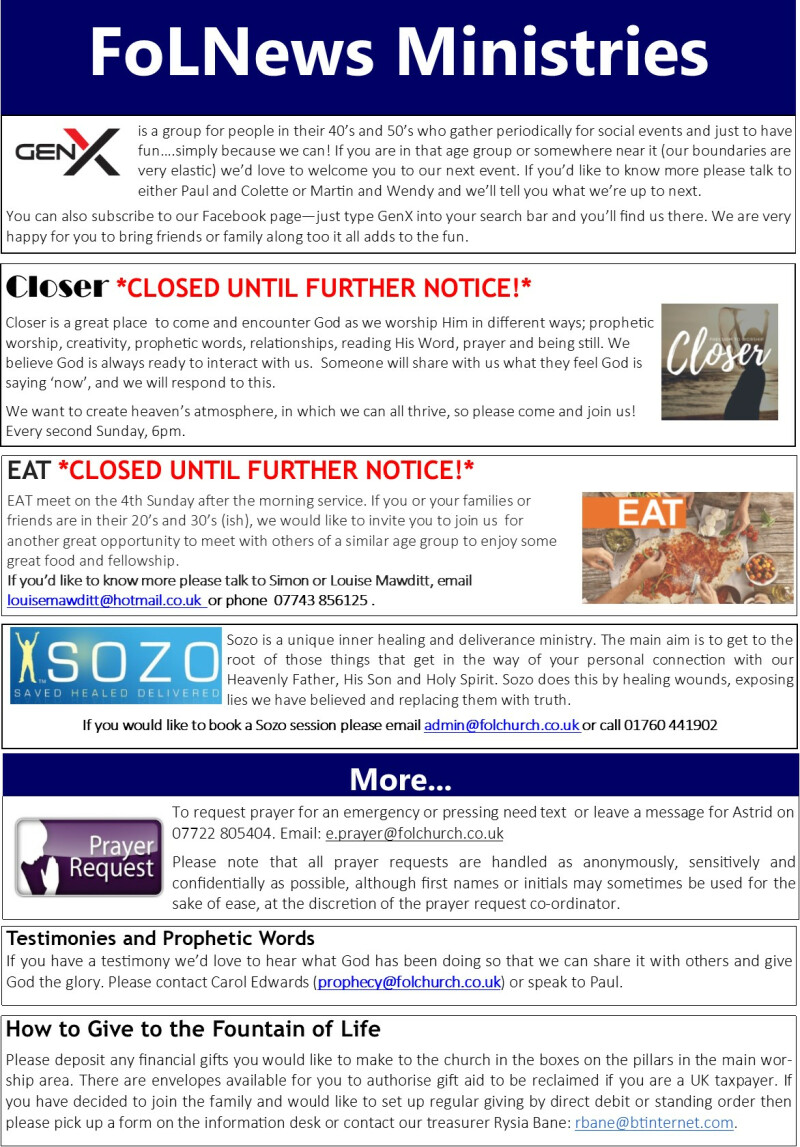 .